Welcome to our ultimate guide to the best baby packages in Denmark! As a soon-to-be parent or a recently new one, you know that welcoming a baby brings both joy and a lot of responsibilities. Luckily, Danish companies understand the challenges that come with parenthood and go above and beyond to support new parents. In this guide, we'll delve into what baby packages are, why Danish companies offer them, the benefits they provide, and help you find the best baby packages available in Denmark. So, let's explore the world of baby packages and make your parenting journey a little easier!
If you're unfamiliar with the term, let's start with the basics. Baby packages in Denmark are specially curated sets of essential sample items designed to support both the baby and the new parents. These packages often include diapers, clothing, bedding, baby care products, and more. Instead of running around to buy each item individually, baby packages provide some of the necessary essentials in one convenient bundle. They are designed to simplify your shopping experience and make life easier during those precious early months with your little one by finding out which brands are the best for your baby. The best part, most baby packages are free!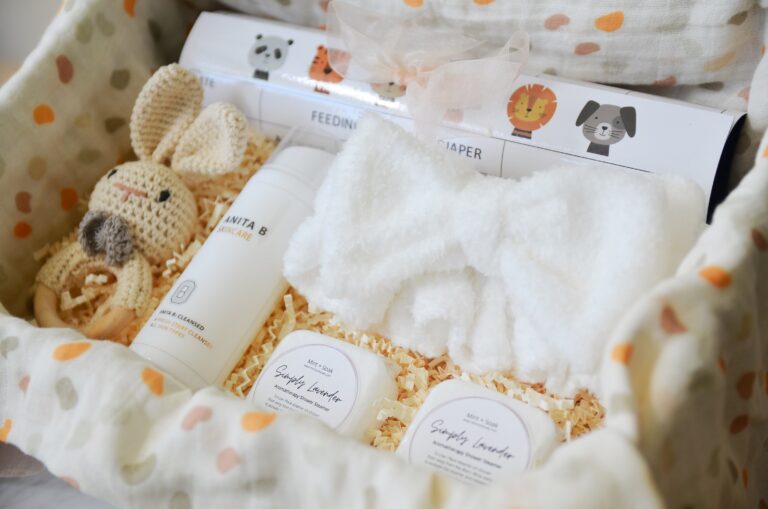 Why Do Danish Companies Offer Baby Packages?
The Danish work culture is renowned for prioritizing work-life balance and creating a family-friendly environment. Offering baby packages is a testament to this commitment. Danish companies understand that supporting new parents not only benefits the employees but also contributes to a productive and motivated workforce. But essentially, they are used to help new parents try out various brands provided at their store to help them decide if the brands are right for their baby. 
The Benefits of Baby Packages in Denmark
Baby packages in Denmark offer a range of benefits for new parents. First and foremost, they provide significant financial savings. By ordering a baby package, you can take advantage of bundled discounts and save money. Not only does this reduce financial stress, but it also ensures that you have all the necessary items without breaking the bank in the beginning stages of your child's life.
Another advantage of baby packages is that they save you time and effort. Rather than spending hours researching and shopping for baby essentials, baby packages provide a convenient all-in-one solution. This can be a game-changer for new parents who are already juggling multiple responsibilities.
Furthermore, baby packages offer peace of mind. Knowing that you have some necessary items to help you get started for your baby's care enables you to focus on creating beautiful memories and enjoying the early stages of parenthood. With everything you need within reach, you can relax and cherish those precious moments without unnecessary worries.
The Best Baby Packages in Denmark:
There are several outstanding companies that offer the best baby packages in Denmark. Here are a few recommendations of current baby package available in Denmark and what is included in them:
Rema100: Rema100 is a grocery store that offers baby packages in Denmark. You order the Rema1000 package online and pick it up at your local Rema1000 store. All items in the package are full-size. The package contains wet wipes, diapers, foam wash cloths, a pacifier from MAM, a teddy bear, children's shampoo, pamphlets and gift cards for free delivers and swim diapers. Read more and order here.
BabySam: BabySam is one of Denmark's largest baby store chains in Denmark. Their free babybox contains many really good products. The package can be ordered online and picked up in store. The order can be made until the child is 3 months old. The baby contains a diaper pail (optional to order), a pacifier, diapers, feeding bottles and a voucher for viaplay for 2 months free. More info on other products and offers in the package, click here.
Smartkidz.dk: Smartkidz is an online Danish clothing store for babies and kids. You will receive 1 piece of clothing in size 50 or 56. You can choose between boy, girl or unix. The price is only 1 DKK and you receive free shipping when you sign up for the newsletter. Order by clicking here.
Ønskebørn: Ønskebørn is also another big and independent retail chain in Denmark for baby and toddler products in Denmark. The contents of the box include a pacifer, bottle, diapers, teddy bear and discounts for other products. The conditions of ordering the baby box are that you order online and can be picked up at your local store from 5 months before the due date to 3 months after the birth. To order the package, you must accept that your phone number and email will be shared with Ønskebørn's partners. Order the baby box here.
Mødrehjælpen: Mødrehjælpen offers a baby start package and a single start package. Both packages are distributed on the basis of your financial and social background. To be considered for the packages, you must send an application to engodstart.dk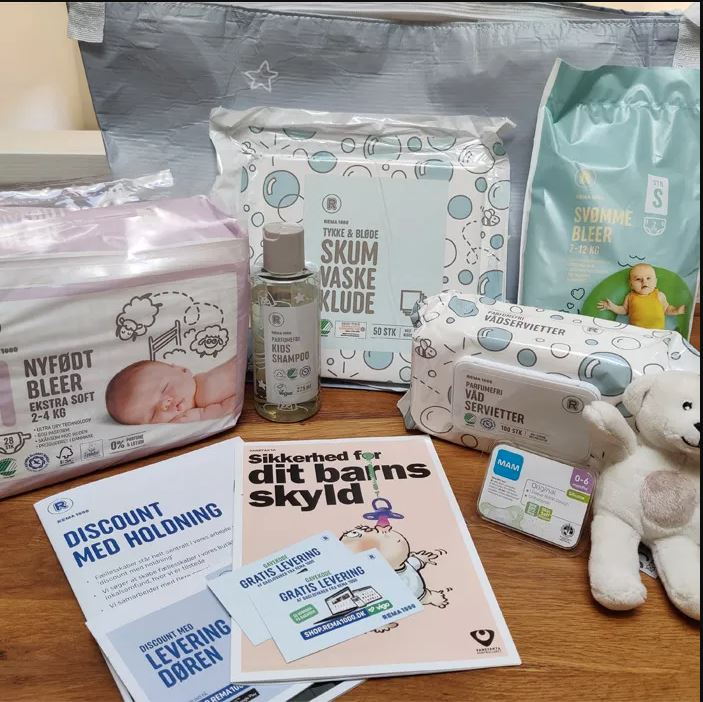 Searching for the Best Baby Packages in Denmark
To find the best baby packages in Denmark, start by visiting the websites of the recommended companies we mentioned above. Take the time to browse through their offerings, read product descriptions, and customer reviews. This will give you a good idea of the quality and value each package provides.
Also, consider your budget, customization options, and the company's reputation. Don't hesitate to seek advice from other parents and read parenting forums to gather feedback and recommendations. Online marketplaces can also be a valuable resource, allowing you to compare different baby packages, prices, and customer ratings to find the best baby packages in Denmark.
Congratulations on embarking on this beautiful journey of parenthood! Danish companies have your back with their incredible baby packages, offering convenience, savings, and peace of mind during those early stages of parenting. Remember that Denmark's work culture values work-life balance and supports new parents, making it an ideal place to build your career and start a family.
Take the time to explore the recommended the best baby package in Denmark mentioned in the guide, consider your needs and preferences, and choose the baby package that feels right for you and your little one. Enjoy this exciting chapter of your life with the confidence that comes from having the best baby package by your side. Happy parenting!