Being a newcomer isn't always an easy thing to do, there's not a concrete guide on how to organize your new life as an international in a foreign country. Whether it's impossible in the beginning to remember all the information or where to look for it, or that the government and its institutions could do a better job (from time to time) at integrating us, the internationals, smoothly.
Where I come from, they say, "nothing in life is easy" and I can't agree more especially when you find yourself in a new country, with a different school system and you also need to make your own money. That's why in this article we will touch upon the usability of career centres and how easy and efficient is the system in Denmark is when it comes to getting that sweet entry-level job in your field.How to use career centres in Denmark.
This article is based on a survey conducted by career coach Kate Dahl, with 368 international respondents in 2020. In addition to this, this is an opinion piece, as I am myself a former student, that had 1st hand experience with the Danish educational system and Denmark's institutions such as career centres, a-kasse, and unions.
Disclaimer: this survey did not reach a conclusion, as there wasn't enough data collected to draw a statistical conclusion.
However, the answers given to some questions deserve a chance for discussion and possible explanations.
The following 3 graphs have been chosen to be discussed and offer a potential view on what would be the regular activities within the career centre in Denmark's higher education.
Most respondents have not used a university job center in their job search, whether because they have not enrolled in an education in Denmark or for other reasons.
Other reasons for not using the career center are:
The top five responses respondents gave when asked why they have not taken advantage of their university's career centre were: I don't know if my institution has one or what they offer, I didn't feel the need to, Language barrier, I don't have the time, and the services aren't specialized enough.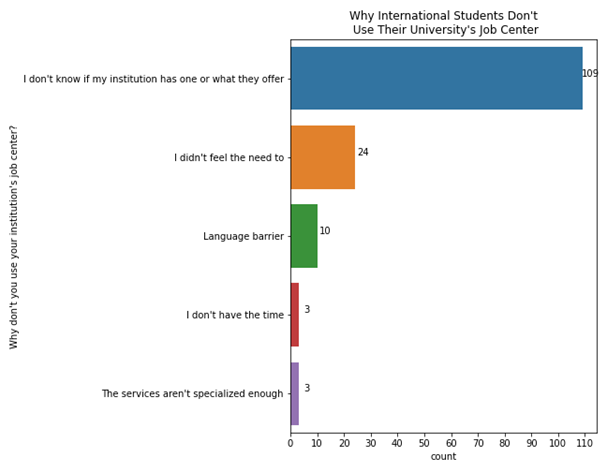 The first answer why students do not reach out to the school job centre is because they are unaware the school has one. This could be an explanation for it:
In my experience as a former student in a Business Academy, most of the (international) students would find out about the career centre around internships periods (2nd or 3rd semester of school). As a preparation for the future internship students will attend a meeting where the administration makes a presentation about the rules, how to organize the internship search and information about the school's "Student and Career Counselling".
From this presentation is mostly understood that career centres are the place where you get professional help on your resume and cover letter.
In addition to this, the school will also organize a company day. All this preparation is indeed helpful, but there's only one thing getting in the way of this perfect organization: timing.
The internship presentation is happening ca. 2.5 months before you need an internship. Everybody runs to the career centre afterwards. You need to book a time and wait so you can get your appointment to check with a professional, you don't receive in-depth feedback because it's just a resume or a cover letter for an internship and you don't get interview preparation or career day preparation.
So, you don't know what kind of questions to ask about the company, how to express what you want from a company, negotiate after internship job opportunities, etc. Do not worry, it gets better by the second time you do your internship, you'll have some experiences to learn from.
I believe informing students in the intro days of the studies about the existence of a career centre or having more professionals in the "internship rush hour" would be a great solution.
I have also noticed that most knowledge about jobs or internships is generated due to student networking: older students will explain to younger students how to navigate the internship and job paths in Denmark. This could give you the answer to why some students didn't feel the need to contact the career centre. While this is great, because of the possible tips and tricks, school professionals should also be considered by students for their market knowledge.
If students get through school without knowing about the existence of a career centre, schools should reinforce communication about this option and what students can expect from a centre like this.
When respondents were asked which services their university job center offers, the top five responses were Help with CV and cover letters, Useful events, Useful courses, Help with work culture and networking, and Useful materials.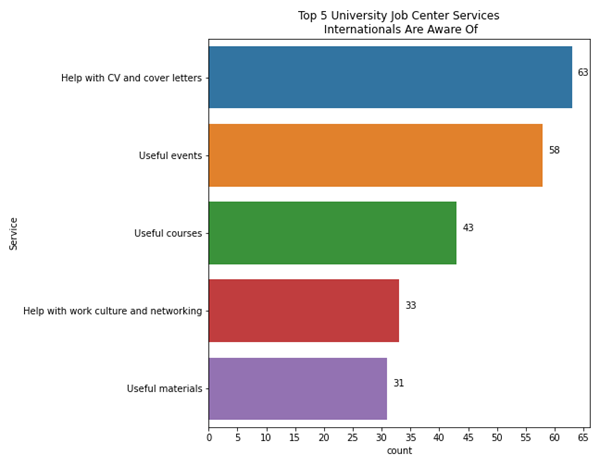 Each university or academy can prepare different ways to help the students get jobs or internships. The most common help is directed towards CVs and cover letters. For those who have already written many of those, practice makes perfect, and the writing flow only gets better.
I had meetings at the career centre, which again because of the rush, were only focused on my resume information and esthetics. I also had an employability course in my last year of studies, which mostly focused on resumes, cover letters, and LinkedIn. At a workshop with Jobnet, when I started my unemployment, we have gone through the same topics.
Whilst there's no way to deny the importance of a good resume and an attention grabber cover letter, these are not the only pieces of great importance in getting a job. In my experience with the danish institutions or courses responsible for getting a job, most of them only prepare you to get an interview.
In reality, the most important part is the interview, the interactions with the interviewer, and securing your well-being at the same time. Knowing how to ask questions about the company culture, employee benefits, onboarding process, what kind of results they would like to see in the first 90 days into the job, etc.
Being able to ask these questions requires a little bit of practice beforehand, so next time you have the opportunity to ask about the interview preparation at your next session with a school career centre, classroom, or jobnet, do it!
Information is power, so get yours from wherever you could gather it. If you have the opportunity to attend the career center, or webinars, or pay specialists to guide you in this journey, do it! Looking for a job is stressful, especially as a new graduate, but getting all the help accessible to you makes it easier.
How to use the danish institutions to get advice with jobs
University career center:
discuss what positions you can access with your educational background
discuss cover letters and resumes
access an alumni/ school network/job portal
Jobnet and A-Kasse
resume and cover letter checkups
webinars and courses
Unions
help you with salary information
help you negotiate your salary
check up your contract
Career specialists/ coaches
CV
Targeting the Application
Analyzing the Job Ad (Making the Call and Email to ask the right questions)
Job Interview Preparation
Unsolicited Application
How to Network, LinkedIn Profile, LinkedIn Content
If you would like to learn more about how can a career coach can help you – feel free to reach out to Career Denmark.
Some pieces of advice
Attend the meetings and webinars! resumes and cover letters are important, and they must be on point, since recruiters don't spend so much time on reviewing, they need to grab attention.
Be proactive and seek out the opportunities to learn, ask your school if they have a career center if they offer classes. A-kasse and Jobnet offer resumes and cover letters reviews for free and offer courses.
You could invest in this process by hearing a career specialist. They have experience with danish employees, they will train your communication and negotiation skills, offer you feedback, show you some of your value that you haven't seen in yourself yet, which is a great confidence boost.
The most important one: focus on the people from your circle that are getting interviews and jobs, instead of those who don't. You need to keep a positive mindset in the job search instead of saying "I'll never find a job in Denmark"
Due to the recent changes regarding international programs and some students not being able to continue their studies with a Top Up, this is a time to really take advantage of the career center and seek all opportunities in the job market. Some will have to pivot in their studies, and some will have to find jobs earlier than expected.
All things considered, the job search process is about you, and in the middle of it, I encourage you to take all the help you can from career centers, danish institutions, or professionals. Be patient, I was also tired of all the "use LinkedIn and network and negotiate the best job deals" they do make sense at some point, but that doesn't mean they have to do now. On the other hand, as I said I do encourage you to be proactive and "nosy", seek opportunities, and do your best not to stress too much.