Denmark is a nation of traditions, and the country is known for its great restaurants and foods. There are some things on the menu, that are very Danish, and that you won't see anywhere else. Chances are, that if you are living in Denmark for some time, you will not be able to avoid these – and why would you?
Denmark have a great national kitchen, and you will find things and foods here, that you won't find in other nations. And isn't that one of the best ways to get familiar with a new country – to get acquainted with their kitchen?
Below, you can read about the 4 traditional Danish meals, that you must try while in Denmark.
"Smørrebrød"
The first traditional Danish food you should know is the rye bread with toppings. The Danish rye bread is the best in the world, and there is a lot of different ways to make it into a meal.
In a traditional Danish dinner of "smørrebrød", you will have the rye bread as a base, and top it with different versions of toppings. It can be anything from fish to pork to vegetarian toppings, and there are no rules in regard to what will go together (or not). It is a matter of taste and up to you and just you. It takes a bit of practice though, to know which toppings works well with each other, so feel free to copy the Danes, if you are a first timer.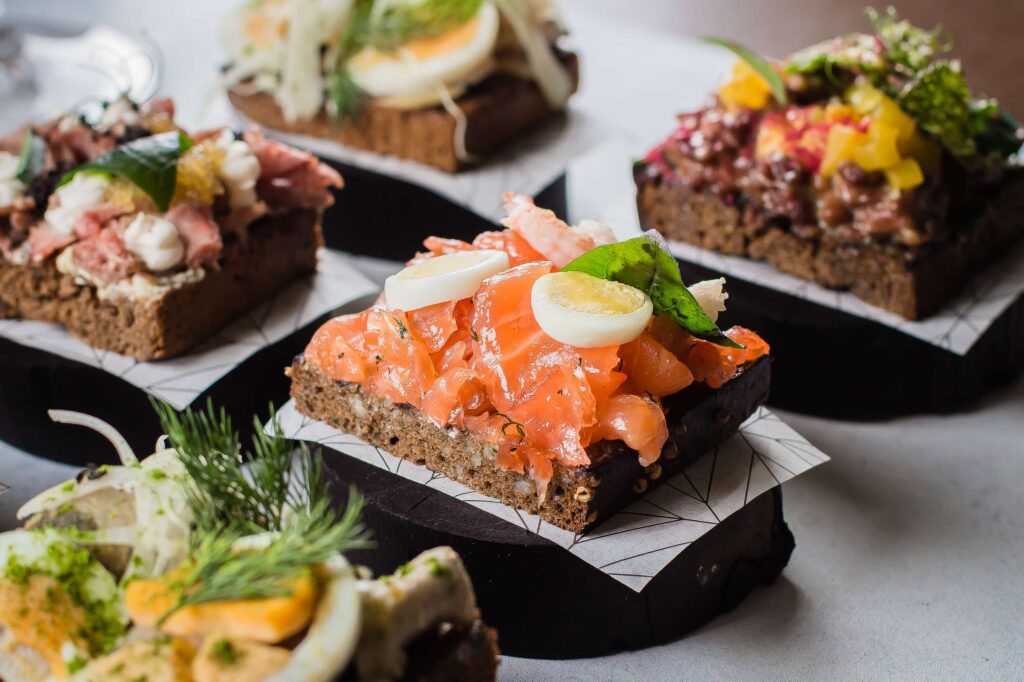 "Wienerbrød" – Danish
Danish "Wienerbrød" is in international terms just called "Danish". The name in itself is not completely accurate though, hence it was actually the Austrians who first invented this type of cake. Later on, a Danish baker took it upon himself to create a lighter version of the dough, making it his own. That dough is what today is used for making the world known "Danishes" – a cake that is as delicious as it is popular.
"Danish" can be bought in any bakery in Denmark and is a food that they are very proud of. There is a variety of different cakes in the same category, and you should probably try all of them to find your very own favorite.
"Æbleflæsk"
Directly translated "æbleflæsk" is "apple-bacon", which sounds a bit weird. But it is actually a very delicious dish, mostly made around Christmas.
The idea is, that you add bacon to a porridge of apples, and serve it warm. It is commonly used as a topping or a side. The sweetness from the apples goes very well with the salty fatness from the bacon, and it is something you have to try while in Denmark.
Potatoes in many shapes and forms
Back in the days, the Danish people where farmers first and foremost, and a lot of those farmers grew potatoes on their land. The Danish soil and weather give great conditions for the potato plants, why it was the obvious choice. Due to the fact, that potatoes were the primary source of nutrition in the older days, this specific vegetable has made its way into many Danish menus. Traditional Danish food will often include potatoes of some sort – either cooked, roasted, backed or fried. It's hard to get by on Danish foods, if you don't like the potatoes.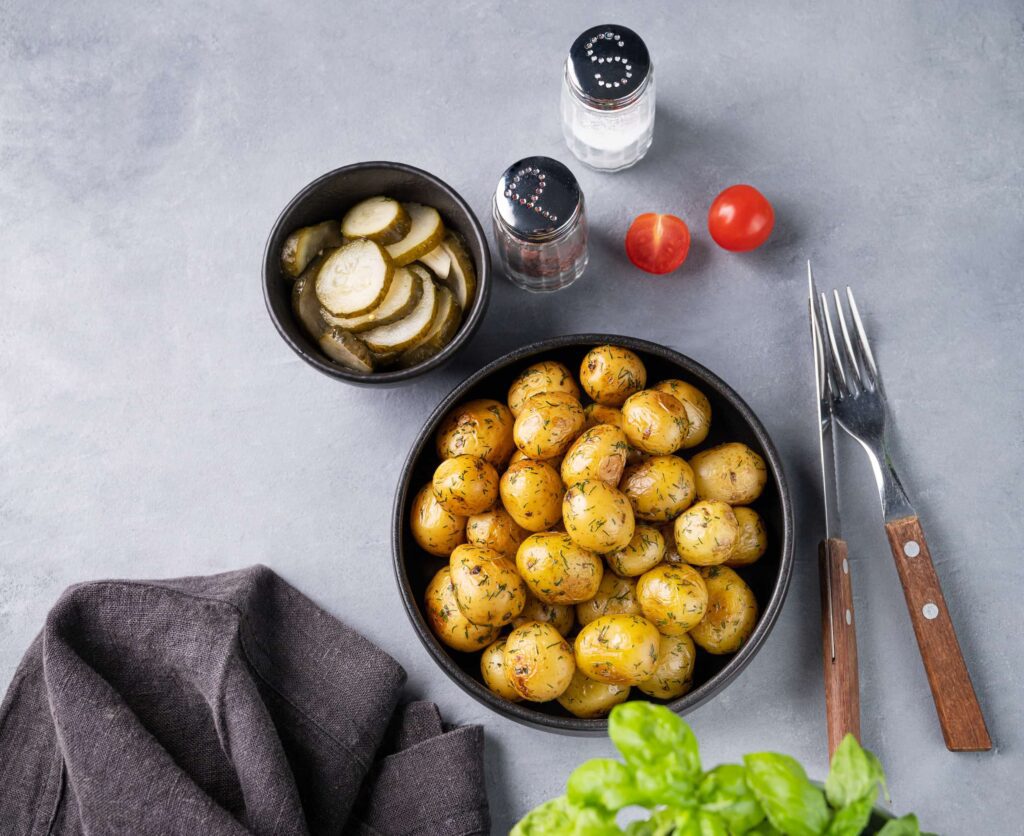 A traditional Danish dinner
A traditional Danish dinner will consist of potatoes, gravy or sauce and some kind of medium/rare meat. As a side, you will typically have a salat and some bread. The Danish kitchen isn't known for either spice or flair, but it is known for using ingredients of a very high quality, organic and "clean" meats and vegetables and an all-around awareness of what the meal consists of.
Danish food used to be very fat and salty, but with knowledge comes responsibility, and the new generations eats healthier than the Danes before. In Denmark there are a lot of good vegetarian product, you can use to substitute the meats in the traditional foods, and thereby still get the authentic experience, even if you don't eat meat.
What are some famous Danish Christmas dishes?
Most popular ones are æbleskiver, risalamande with cherry sauce, crispy Christmas duck, and caramelised potatoes.
What is a traditional Danish dinner?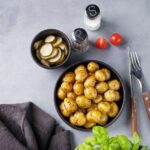 A traditional Danish dinner will consist of potatoes, gravy or sauce and some kind of medium/rare meat. As a side, you will typically have a salat and some bread.
Happy Holidays from everyone at Career Denmark!