It is often talked about developments of artificial intelligence (AI) in tech industry, engineering, or medicine. However, did you know that AI is also becoming more and more advanced in the field of HR and talent acquisition?
Even though data from 2021 shows that only 12% of Danish companies utilize AI in their HR departments (Danmarks Statistik, 2021), we could expect an increase in the near future as the AI tools intended for HR professionals are not only created with a purpose of making the HR managers' jobs easier, but also to improve candidate experience, objectivity and fairness of recruitment processes. Therefore, if you're interested in learning more how AI tools can be used in recruitment, how they work as well as how do young job seekers in Denmark perceive them, keep reading this article and find out.
What AI recruitment tools are most commonly used and how do they work?
Believe it or not, even though your future employer might not be talking about it very often, AI recruitment tools are used in all stages of recruitment from creating and advertising job posts through candidate assessments to background checking, so let's investigate some of them and the ways they are supposed to improve recruitment processes.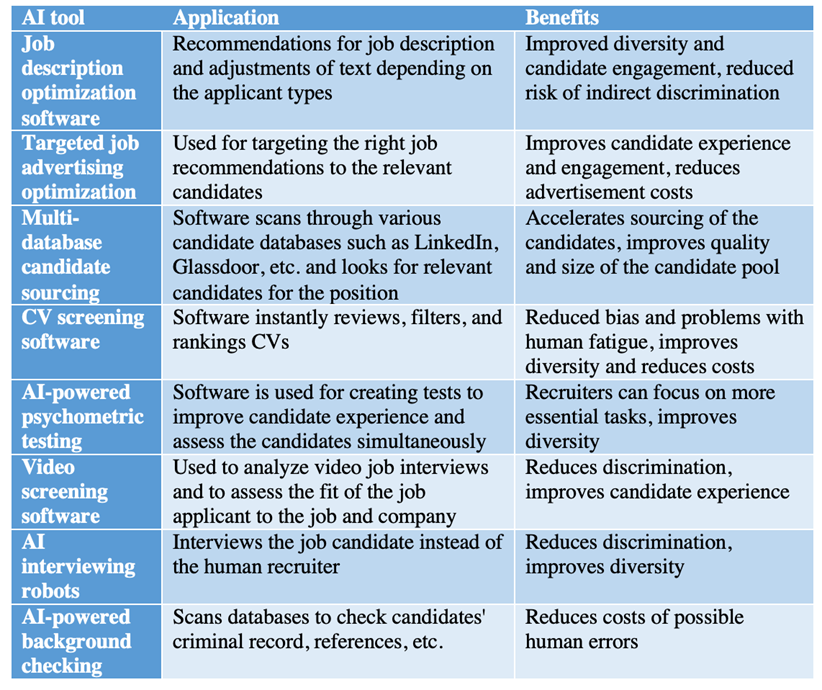 What does the young Danish workforce think?
During my studies in the field of strategy, organization and leadership, I have put a special focus on HR and recruitment. Therefore, I have devoted my master thesis to finding out how young job seekers in Denmark perceive AI recruitment tools, and companies that utilize them as well as how the use of AI in recruitment could affect their willingness to apply for a job. The thesis did include a relatively small sample; however, it was an in-depth qualitative study and has shown interesting insights into how young job seekers perceive technological developments in recruitment.
Firstly, even though every participant in the study has been through numerous recruitment processes in Denmark, only a vast minority was aware of the utilization of AI in recruitment. This could be either because not so many Danish companies are using AI in recruitment or because employers are not disclosing the utilization of the mentioned tools.
Secondly, interviewees have positively perceived abilities of tools such as CV screening software or targeted job advertising optimization software, perceiving them as beneficial when it comes to making a recruitment process more time efficient. Additionally, positive attitudes were expressed in cases where AI tools are used to support human recruiters rather than for decision-making. More trust was shown towards AI tools that do not assess candidates' personality directly rather than towards the tools assessing the personality, such as video screening software or AI robots. Interviewees have had the most negative perceptions when it comes to abilities of AI interviewing robots. They perceived them as unable to conduct a reliable analysis of a job candidate.
Thirdly, participants have generally perceived recruitment processes in companies that disclose the use of AI recruitment tools before the beginning of the process as more trustful than the ones where the AI utilization is not disclosed. Participants of the study would also have trust issues towards a company that discloses use of AI-recruitment tools at a later stage of recruitment process. However, participants who have previously worked with AI in other industries have shown less to no doubts.
Fourth, even though the interviewees have shown slight concerns about human bias translating into the AI recruitment tools, due to them being programmed by humans, they still believed that AI used in recruitment could make the process generally more objective rather than when all of the recruitment tasks are done by humans only.
Fifth, when it comes to their willingness to apply for a job where the recruitment process is AI-enhanced, participants have stated that the type of job and a position itself would have a greater impact than the use of AI recruitment tools on whether they would apply for a job. Furthermore, participants have shown greater willingness to apply for a recruitment process where AI is used as support rather than for the one where AI is used for decision-making. However, participants have perceived a higher degree of AI utilization as more suitable for technical and IT positions.
Sixth, when it came to fully-AI-ran recruitment processes, interviewees would generally be willing to apply for the jobs utilizing them once the technology has reached a sufficient level of development. However, companies that use fully-AI-ran recruitment processes were perceived as the ones that do not value communication and their job applicants enough.
Seventh, video screening software and AI robots were the tools generally mentioned as ones that would reduce interviewees' willingness to apply for a job, while knowing what tools and how they are used in the process would increase their willingness to apply.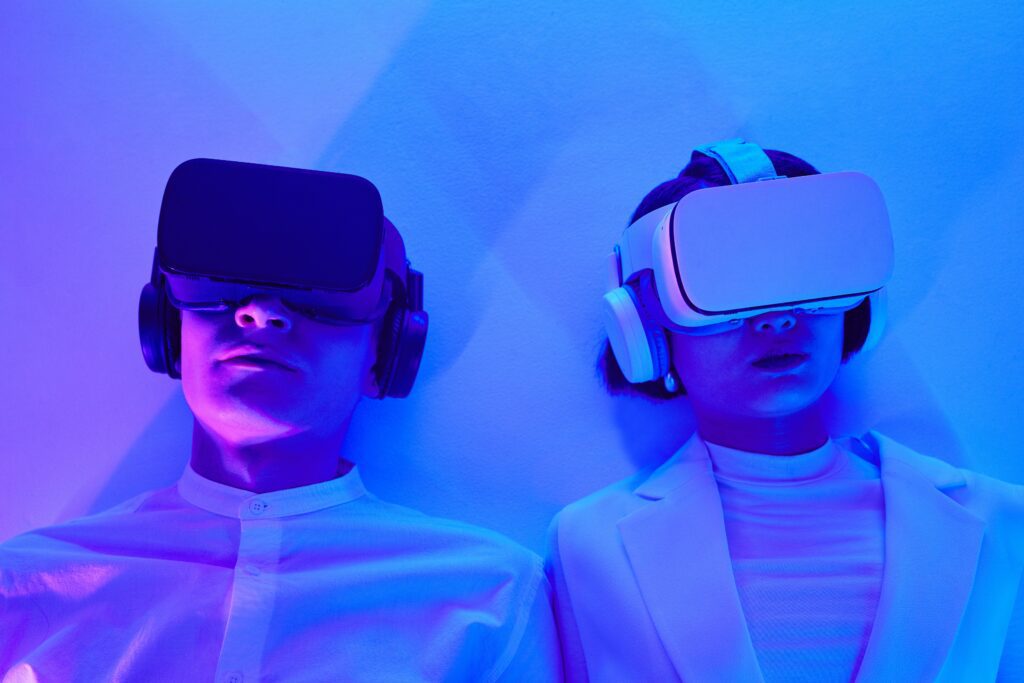 What are the takeaways?
1. Companies should disclose what AI recruitment tools, if any, are utilized within recruitment processes– Even though knowing about whether the AI recruitment tools are used was not perceived as necessary by some participants, those participants did not perceive companies disclosing the use of AI recruitment tools as negative. Interviewees have also perceived recruitment processes where utilization of AI tools is disclosed as more trustful and trust into a potential future employer could be one of the influencers on one's willingness to apply for a job.
2. AI recruitment tools that do not evaluate candidates personally (job description optimization software, targeted job advertising optimization software, multi-database candidate sourcing software, CV screening software) should be put into use before the AI recruitment tools that assess the candidate personally (video screening software, AI interviewing robot) – the first group has shown to be perceived as more trustful. Therefore, in order to improve candidates' trust and their image of the company, that group of AI tools should be introduced into recruitment processes before the other mentioned group, which should be gradually introduced when the social acceptance of it increases.
3. Fully-AI-ran recruitment processes should not be utilized as of now – even though study participants were generally curious about and willing to apply for such recruitment processes, the perceptions of the companies utilizing them were described as less positive. Therefore, in order to avoid negative perceptions among job seekers, fully-AI-ran recruitment processes should not be in the near-future plans.
If this article has sparked an interest in you for the findings of my master thesis and you would like to talk about it a bit more, you are always welcome to contact me via LinkedIn at: https://www.linkedin.com/in/marija-milic/